The house has preserved its original structure, with several rooms interconnected by doors. There are galleries on both sides, where one can sit and gaze at the horizon. A separate dining room holds, as an outstanding feature, old storekeeper furniture. Lastly, a good country kitchen, withits immense fireplace, which thus completes the Pampa style architecture. Its divided in three categories:
SUPERIOR SUITE
A bedroom with a living room, its own fireplace and a private bathroom. This room is part of the guesthouse. There is 1 room in this category.
APARTMENTS
It has two connected rooms and a bathroom. They are located in the guesthouse and have a full view of the garden and fields. Can accommodate 4
to 6 people per apartment. There are two units in this category.
LIVING ROOM
Room located in the country house, overlooking the park and garden. It is double room with private bathroom with a bathtub. There is 1 room in this category.
CHECK IN: 12:00 hs. CHECK OUT: 11:00 hs.
Rooms will need to be realeased, the guest will have the right to use the facilities as contracted.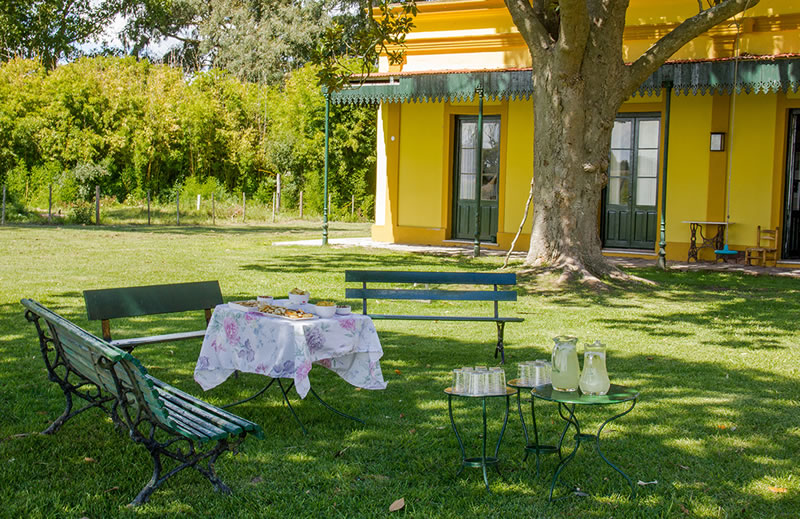 Come and enjoy a day in the countryside!
• Lunch and snack including non-alcoholic drinks and a glass of wine per person.
• Use of facilities: common areas, games, bicycles.
• From 10:00 a.m. to 6:00 p.m.
• Activities and guided tours within the lodge,horseback riding, tour of the facilities.